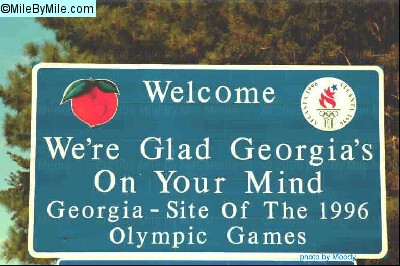 As Pedro, Logan and I drove closer and closer to Georgia, we were excited but also nervous. This would be the first time that we would return since Pedro's release from Stewart Detention Center on May 17, 2011. Now six months later, we were driving back voluntarily. With each mile passing of our 529 mile journey from North Carolina to Georgia, we were reflective about how quickly time had passed since we were reunited. Having a "normal" family life seems to speed up time. When Pedro was detained, time flowed like molasses in a Minnesota winter. Every second was painful and agonizingly slow for all of us.
As we crossed the Georgia border, my body, holding our unborn little girl, Lilyana, safely inside, began to ache. My excitement dulled the aches and pains as we arrived in La Grange to pick up Christin and Bryan Babcock from Anton Flores' home. Christin, Bryan and Anton had given us enormous support in our year and a half of hell. They came to court dates, emotionally supported us, visited Pedro and showed us love, housed us and hosted us at El Refugio. They were also 3 of the 8 that were arrested in protest of Pedro's detention. My mother, Logan and I were the first guests at El Refugio the weekend of the Stewart Vigil and Rally the year before.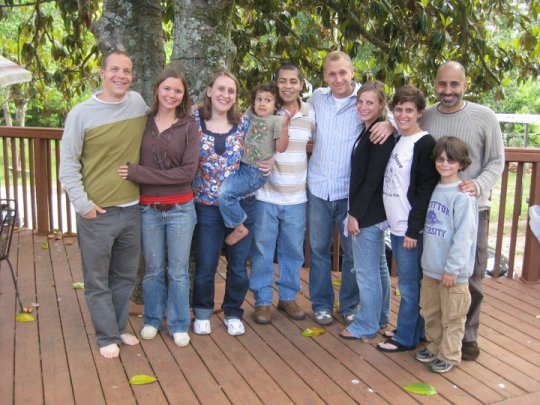 The hour and a half drive from La Grange to Lumpkin, GA passed by quickly. We talked with Christin and Bryan about what had been happening in our lives and Logan quickly fell asleep. At around 10pm we pulled up to El Refugio . When Alterna opened this hospitality house last year, I was amazed. As a safe place for families of detainees it was a powerful statement of love. When visiting Pedro or attending court dates, we were on an emotional roller coaster. We were overjoyed to see him but so pained to have that damn glass between us and then to leave him behind once again. El Refugio provided emotional support, shelter and food for that short, intense stay. It was a life saver for us. We all fell asleep quickly after a long day of traveling.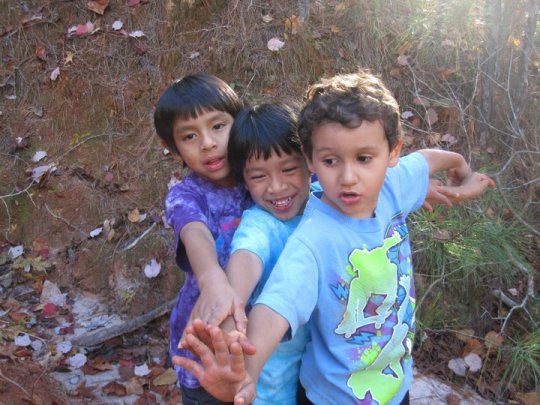 In the morning, Logan's favorite Georgian friends, Javi and Teo, arrived along with the first people that hosted us at El Refugio the previous year, our good friends, Marilyn and Leslie. We quickly prepared ourselves for the fifth annual Stewart Detention Center Rally and Vigil. The boys played while we all rushed around getting ready.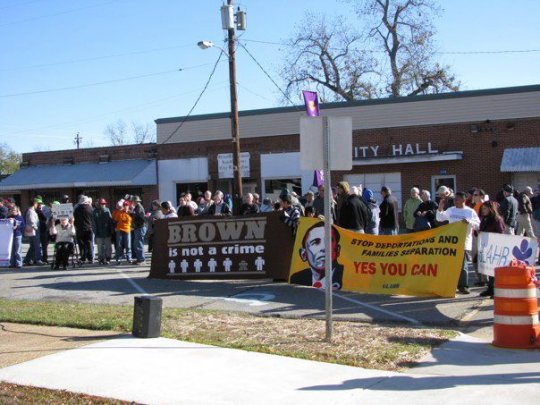 ***** Photo by Donna Schmaeder
As we arrived at the normally sleepy Lumpkin Square, it was alive with 270 people (more than double the attendees from last year). We were greeted by so many warm faces and welcoming hugs! Five of the 8 that were arrested at the rally last year in protest of Pedro's detention were there to greet us including: Anton Flores, Ellen McGill, Jules Orkin, Christin and Bryan Babcock. For many attending this rally, it would be the first time that they had met Pedro in the long fight for his freedom. The rally began with words of strength and songs of solidarity. Tears fell while I realized what an amazing accomplishment it was to win Pedro's freedom. They continued to fall thinking of all of the families that are still separated by our inhumane immigration laws. We were interviewed by the media as we marched from the Lumpkin town square to Stewart Detention Center.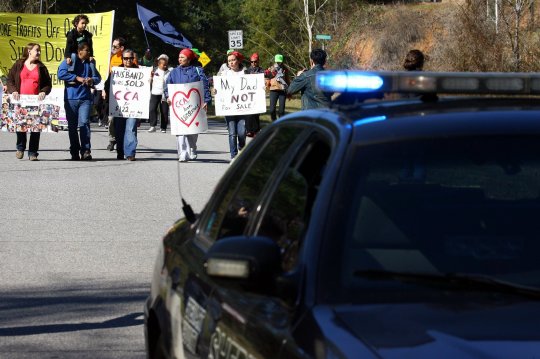 ******Photo by Mario Guevara with MundoHispanico
As we walked up the hill, I listened to the other stories of families broken by immigration. They spoke of their pain, one husband's deportation, one father's detention, and the detrimental impact on their lives. I put my hand one woman's back, her eyes filled with tears. The words broke my heart but also filled me with gratitude that our family was now whole. We are an exception to the rule.
******Photo by Mario Guevara with MundoHispanico
We turned the corner and the Corrections Corporation of America silo came into view. The gate was filled with state troopers, police officers and CCA guards. I looked at Pedro and I could see the emotions rising. He was on the outside and he was standing up to the monster in his nightmares. We all marched towards the police cars as the rally musicians welcomed us to our makeshift stage on the public side of the Stewart Detention Center property. Many others spoke over the loud speaker, their words of anguish echoing through the air.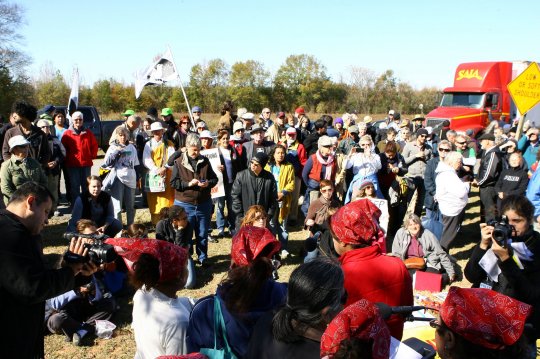 ******Photo by Mario Guevara with MundoHispanico
Then Pedro and I took the stage. As the Stewart Detention Center guards listened, we spoke from our hearts.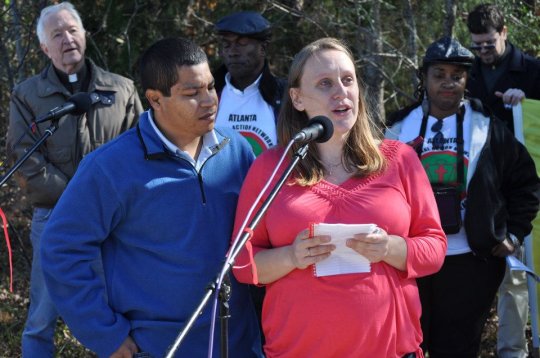 ****** Photo by Periodico La Vision
"My husband, Pedro, was detained for 597 days at Stewart Detention Center. CCA , the business that runs this detention center, profited almost sixty thousand dollars off my husband. That money came from the federal government and our tax dollars. Pedro, our son, Logan, and I suffered greatly during our separation. On May 17, when I told Logan his father was being released, he asked, 'Are all the other mommies and daddies getting out too?' The heartbreaking truth is that there are so many immigrants still unjustly detained. Pedro is free but so many are not. So many other immigrants are still unjustly detained. Most cannot fight because the system is not set up for justice, it is set up to get as many immigrants out of the country as possible. For the first six months Pedro was detained, I was scared to speak out. My anger and frustration took over, and I cast my fear aside. The system is broken and based on fear. Coming together in courage and love -- speaking out together -- we can accomplish human rights for immigrants. Our family is reunited, but we will keep speaking out until every family is free."
Pedro told the crowd the treatment in Stewart was inhumane, the food was bad, and detainees receive little legal help. The CCA guards showed no respect for anyone, there was always a threat of loss of your privileges for food, phone cards, or recreation, or of lock down.
"After twenty months away from home, you lose faith, you feel worthless, this place breaks you, it is made to break your soul."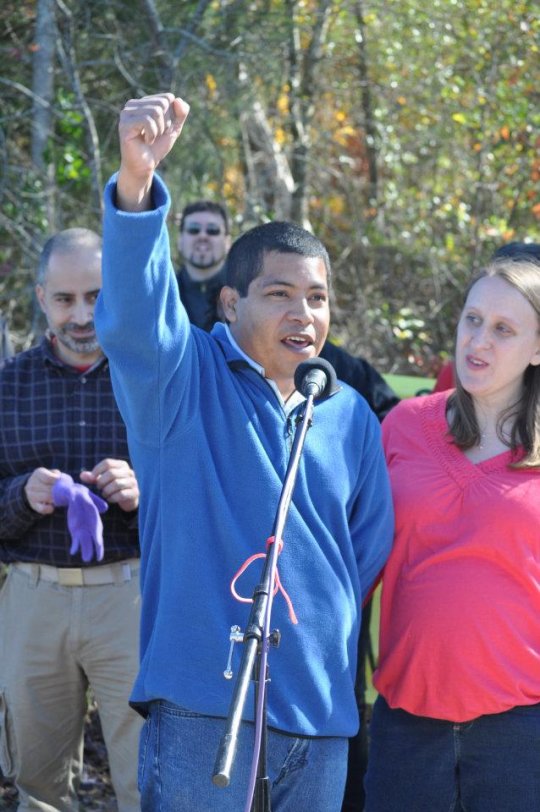 ****** Photo by Periodico La Vision
Anton Flores and Chris Spicer then spoke of the insanity of immigration laws and the injustice of the immigration system in the US. "I cross the line because I want to close the SOA, I want to close Gitmo [US prisons in Guantanamo Bay, Cuba], and I want to close Stewart Detention Center," Spicer said. Chris also announced that he would be fasting, "to purify this unjust system. The SOA and inhumane immigration policies are part of the same racist system of violence and domination." Chris then chose to cross the private property line of Stewart Detention Center. It was a physical act of protest for all of those that are not free. The event was powerful and therapeutic for us, we gave our pain words and we were able to speak in front of the "machine" that caused our pain. After many hugs, tears, and interviews the crowd dispersed. Pedro, Logan and I stayed behind to talk to Univision.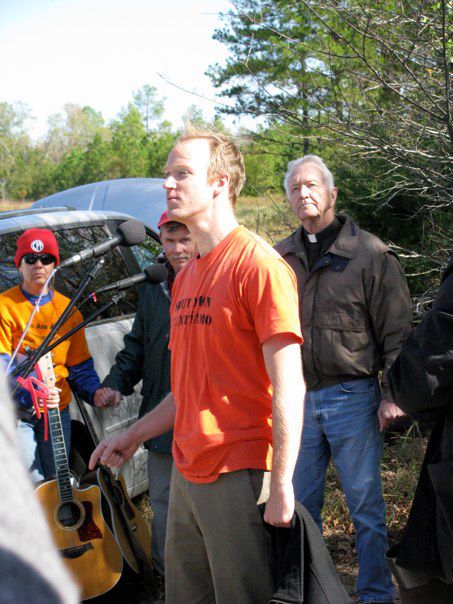 ********Photo by Donna Schmaeder
Suddenly, I saw Anton Flores talking to the Stewart County Sheriff and a few other officers. I kept looking up from the interviews and thinking they were having an unusually long conversation. Suddenly, Anton yelled to me, "They are arresting me for trespassing. Please find the legal team." The arrest happened long after Chris' act of civil disobedience. Anton had not crossed the line but because he is a powerful voice in the fight to shut down Stewart Detention Center and the primary organizer of the event, he was being harassed and arrested conveniently after the legal team had left the area. Logan was in a panic. "Are they going to take Anton in there?" he asked pointing to Stewart. "No", I responded. "Anton has the special papers that we have talked about, like the ones daddy has now so he can be free. Don't worry. We will find Anton."
After a few hours, with video evidence shown to the local judge proving Anton did not cross the line. Anton was released. When I heard the news, I asked, "Where is he?" "Giving press statements," someone answered. I smiled thinking, "They messed with the wrong guy."
We spent the afternoon reflecting on the enormity of the event, the healing in our hearts and the warm support that we are so blessed to have in our lives.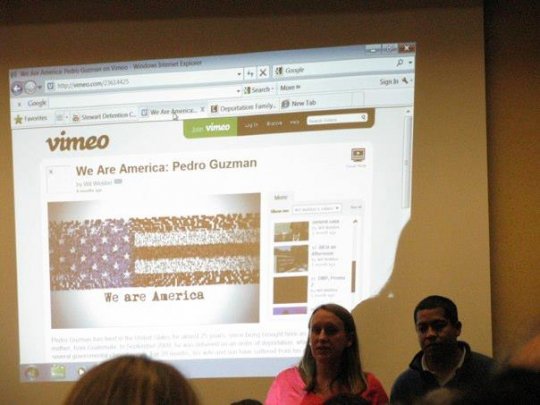 ********Photo by Donna Schmaeder
That evening, we were sponsored by Witness for Peace, to present a workshop on immigration detention at the SOAWatch conference in Columbus, GA. (link) At 6:25pm, five minutes before the workshop started there was one person in the room. Ten minutes later, they were turning people away because the room was so packed. As we spoke of our experiences, I felt amazing. The whole time I was thinking, "I am standing next to my husband, sharing our pain with people who care. They are listening and they too are outraged. We spoke of our unnecessary suffering at the hands of Homeland Security and Corrections Corporation of America (CCA). We shared the insanity that it took 596 days for them to give Pedro a day in court and finally give him permanent residency. Every one of those days was a profit for CCA. In the first quarter of 2011, CCA's net income was $40.3 million and with each quarter their income increases. Each time there is a new anti-immigrant law like SB-1070 in Arizona or HB-87 in Georgia, their "beds" fill up with immigrants and their profits increase. Immigrants are seen as dollar signs. CCA was at the original planning discussion to initiate SB-1070 because they profit from harsh immigration laws. The crowd at the workshop gave us a warm reception and had many questions. Their eyes were opened and we experienced more healing…we were together, fighting side by side.
That night, lying in bed at El Refugio, I had fear and anxiety in my heart. The next day, we would be entering Stewart Detention Center to visit Pedro's friends that were left behind. I knew the fear wasn't rational but both Pedro and I never imagined walking through that barbed wire fence again. I remembered all those nights I lay in that same bed thinking, "He is 1.5 miles from me, in the same town but I can't go get him or touch him or hug him or hold him." But that night I could. I reached over and put my hand on his chest. He was still there. He was still free. It wasn't a dream.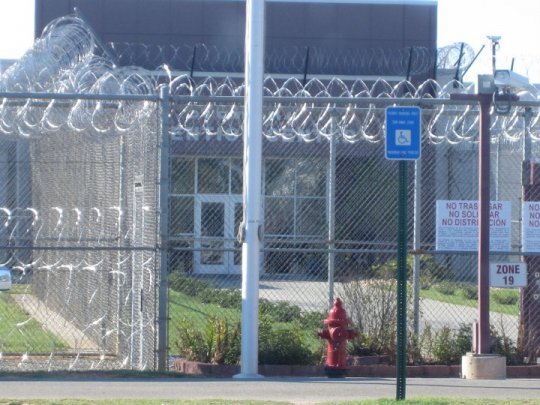 Saturday morning, Pedro, Logan, Leslie and I woke up early to go visit Gregorz and Cesar, two men that were still detained at Stewart. We drove around the corner and I could feel the anxiety in the air. We walked in and filled out the applications to visit. Having Pedro with me in the waiting room was so surreal. Pedro and I kept glancing up at each other in disbelief. I explained all the visiting procedures to Pedro. It felt odd to explain rules to someone that had been there so long. Pedro was making all kinds of jokes, as he does when he is nervous. Leslie was humoring him and Logan was on his best behavior. We were called up and we put all of our stuff in the x-ray machine and passed through the metal detectors. We retrieved our things and put them all in the tiny lockers assigned to us. The giant, metal door was opened and our hands were stamped with the date before we walked through the door. Bars were opened to get to another locked door to the visitation room.
Inside were five cubicles where the visitors were separated from each other by cement blocks and from the visitee by thick glass windows. We spoke to our friends through old-school, crackly phones. The glaring, harsh fluorescent lights made everyone look sickly. Gregorz and Cesar entered the room and I sat back to allow Pedro some time with his friends. I watched him conversing with them. He was animated and loving. "My husband is so brave" I thought, "Who would voluntarily come back after being given their freedom?" My husband would.
The honest truth is that we have both been wracked with survivor's guilt. When he was released, he left so many behind, only to be deported or continuously detained in these horrible conditions. My guilt comes from all of the families I have met along the way who have lost their husband's, their fathers, their children to deportation after their detention. I have my husband back but they are still separated from their loved ones, contemplating the horrible decision of whether to uproot their family and go to a place they left long ago or have never been or to live here without them. I thought I was going to have to make that decision. To leave my entire family, to leave my country, to leave my community or to stay here without him. That is a horrible decision to have to make. There are so many questions you ask yourself. Will we find work? Will we be safe? Will we survive? How will we live? Many brave souls have made the anguished decision to stay and be separated or to go and suffer. We were saved from that decision.
I sat it that cold, glaring, horrible room and felt blessed and sad at the same time. Sad for Gregorz, who has been in Stewart for two years and will now be deported, possibly to his death and for Cesar, who is waiting day after day to hear news of his appeal (so far six months). Sitting there, contemplating all of the families I have met that have been ripped apart by our horrible immigration system. We were saved but we are in the minority. Logan ran around the room, talked to Gregorz briefly and played hide and seek like he used to when Pedro was on the other side of the glass. After an hour, Logan was emotionally exhausted and begging to leave. Gregorz had requested an extra hour to visit with Pedro and I had to make a snap judgment. Do I make Logan suffer and wait with us for an hour? Or do I leave Pedro behind to visit with Gregorz? I was petrified to leave him there. I knew it was irrational. I knew they couldn't keep him there but I am still scarred and filled with mistrust. I chose to leave and let them have a peaceful second hour of their visit. Logan, Leslie, and I returned to El Refugio and ate lunch. A bit later, I received a frantic call from Pedro. "Are you here? Come get me? I can't be here by myself." He also had scars. I rushed to get him and when I pulled into the driveway, he was walking as far away from Stewart as he could get on foot. Pedro sighed with relief as he jumped into the car to safety.
Our next event was speaking on stage in front of thousands of people at the SOWatch Rally in Columbus, GA. We packed up our things and headed north. The crowd was enormous and full of people that were calling for peace. We walked up to the stage and looked out at the sea of people. We spoke of our pain and we spoke of our continued fight. We were well received and appreciated by this vast crowd of open minded people. (pic of SOAWatch event). As we stepped off the stage we were greeted by Jon Fromer. He sang at the rally last year. His song, "Welcome" brings me to tears every time I hear it (link to the song). As Pedro and I embraced Jon, we all cried. He told us how our story impacted him and that he was so happy for us. We told him what his song meant to us. It was a joyous reunion. As we walked away from the stage area, we were greeted and embraced by numerous people thanking us for sharing our story. We did feel welcome.
****To hear John Fromer's Welcome and see photos from the 2010 vigil click on Welcome****
In the afternoon, we set out to prepare Gregorz's deportation bag. He has no family here and has not returned to his country for fear for his life. We spent the afternoon collecting items for his suitcase and contemplating what was allowed in the bag and what he would need. When detainees are deported they are sent away with a single bag of clothes and no other items. Some do not have family or friends close by to bring these items and are deported with only the clothes on their back. We were happy to help Gregorz as he and Pedro supported each other so much while detained together.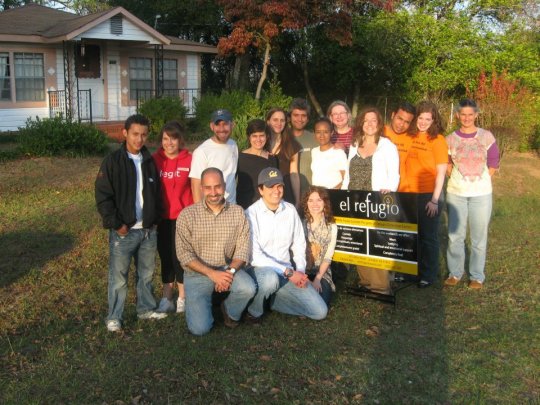 We then went back to the conference center to support Anton at his workshop about El Refugio at the SOAWatch conference. Katie and Amilcar, El Refugio volunteers and friends of ours who had also hosted us, were co-presenting with Anton. As we arrived, Anton asked if we could also speak. We immediately agreed. We spoke of how much El Refugio and Alterna have meant to us and how supported we have felt by them. Pedro and I agreed that it was because of their support, that we were able to continue fighting and to win our case.
That night, we stayed with Anton's friends and neighbors, Joanne and Dean. We talked into the night and reflected on how amazing the weekend had been.
In the morning, after a beautiful breakfast and delicious coffee made by Dean, we stopped by Anton's and sat with his family. We expressed how much they mean to us and they told us that our story provides hope for so many who feel there is none. We told Anton that we will not stop here. We will keep coming back every year until Stewart Detention Center is shut down! We will speak out in North Carolina and everywhere else that will have us until we accomplish human rights for immigrants! Si se puede!!
*****Photo by Mario Guevara with Mundo Hispnico