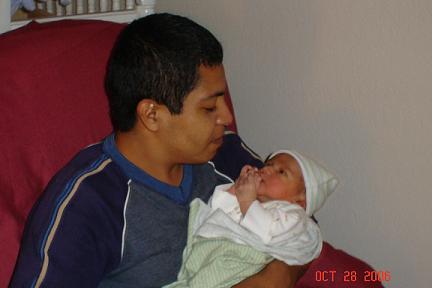 Logan's 4th birthday was on Sunday. In the morning we woke up to a call from Pedro. He sang Happy Birthday, Las Mañanitas and the Monkey Birthday to our son. We talked about the day he was born, the difficult labor I had with him, and how happy we were that he was born after 30 hours. Pedro remembered cutting Logan's umbilical cord and that he was the first one to hold little Logan in his arms. As Pedro spoke, he began to cry. All he wanted when he held that tiny, vulnerable baby, was to love him and protect him from pain. Now he sits in a cell, helpless and unable to be with our son for his entire 3rdyear of life including his 4thbirthday. It rips him apart. For the rest of the day Logan told everyone, "My Daddy cried because he misses me."
In the days before his birthday, Pedro had been fretting about what to send to Logan. He said he had been in denial that his birthday was actually arriving. I was in denial too. I never thought Pedro would still be detained on Logan's birthday. The truth is that Pedro could not decide what to draw or to write because he knew he could not give Logan what he truly wanted for his birthday, his Daddy to come home. No toy we can buy, picture Pedro draws, or words Pedro writes can replace his presence in our home. We need him. We miss him. It is a daily struggle to live without him.
We did the best we could on Sunday but I have noticed a change in Logan this week. He wanted his father there on that important day and he wasn't. In therapy, this morning he was slightly more aggressive and needed to be in control of everything but he did not want to talk about how he felt. In the car, with my mother and my sister he looked sad and said, "I'm so confused." Then in the middle of the night tonight after struggling to fall asleep, all of his emotions came to a head. He finally had the words to express how he felt. "I'm scared because Daddy is the big one and he protects me. I'm scared the mean guys are going to come and get us. I'm scared the mean guys are going to kill Daddy and he will never come back. I want Daddy to come home. I want him to play action figures with me. I want Daddy to see my dance moves. I want him to come home and protect us. I miss Daddy."
Logan deserves to have his father, with him, right now. He deserves to have his father close, to be able to hug him when he wants, to be protected from the monsters. He deserves to feel safe. But he doesn't. Most children are scared of monsters that don't really exist. Our broken immigration system has created monsters in our son's life that do exist.