May 22, 2011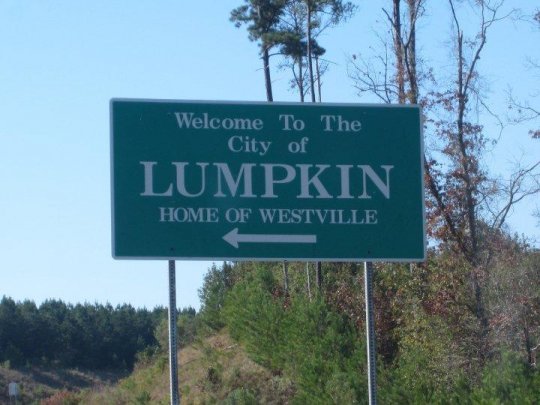 After 596 days of immigration detention, Pedro finally had his day in court on Monday, May 16, 2011. My mom, Milo (Mom's fiancee), my best friend Sarah, Logan and I drove to El Refugio (hosted by our friend, Marilyn McGinnis) in Lumpkin, GA on Saturday, May 14. We were followed by the LA Times and Cuentame, documenting our journey as we traveled across North Carolina, South Carolina and Georgia. We were all racked with anxiety and honestly we had very little hope that Pedro would win his case. I was simply relieved that we had survived the 596 days it took for the Department of Homeland Security to give our family our day in court. On that day, we would be able to present our evidence for Pedro's eligibility for NACARA. We would attempt to prove Pedro's good moral character and the extreme hardship Logan, Pedro and I would endure if he was deported to Guatemala. Saturday and Sunday went by surprisingly fast. Saturday, we were driving the numerous hours from NC to GA. On Sunday, we had our visit with Pedro. The rest of the day was filled with interviews and questions. They helped me to process our history and plan for what was about to happen.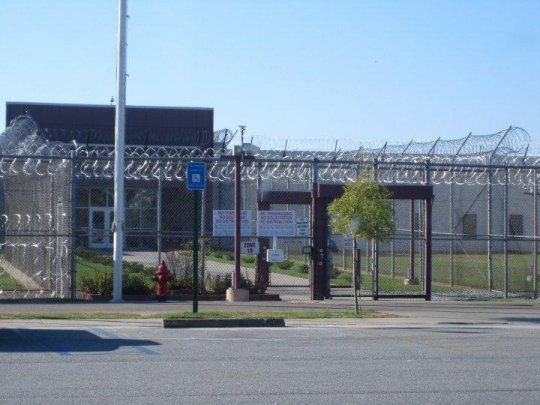 The day of court had arrived. I was petrified. My husband's freedom was hanging in the balance. We had breakfast, a prayer circle with our good friend, Anton Flores, and got dressed for court. We met with our attorney and headed to the immigration court located inside Stewart Detention Center. We quickly entered the court room. The government attorney requested that before the witnesses testified, they would not hear the other testimonies. Logan, my mom and I left the court room and Pedro testified first. Logan shut down from the stress and fell asleep while we were in the waiting room. My mother and I began to review all of the points of extreme hardship and Pedro's good moral character. When the guard came to take my mother to testify, I had no distractions. As I held little, snoring Logan, panic set in. I didn't know what else to do, so I prayed. I prayed the entire time I was waiting. "God, please give me the words to convey our potential hardship and the good moral character of my husband. Please help me to set my husband free." I began to cry. "You are the most powerful and most high God. You are the only one that can free my husband. Please bring Logan's father back to us. Please guide the words of my mother." I began to feel peace slowly blanketing me. "God, I thank you for all of the blessings that you have given to me. Thank you for our painful growing experiences. Thank you for giving us the strength to continue to fight injustice. In Jesus' name I pray. Amen."

The guard came through the door and called my name. "Emily Guzman, they are ready for you." This was it. This was my chance to be heard. I passed Logan to my mom, sat in the witness chair, and turned to face the judge. As I opened my mouth, the words and tears began to pour out. "Your honor, I have struggled with depression since I was 16 years old. As a teenager, I was hospitalized for suicidal thoughts and then a suicide attempt. At that time, I began taking medication and attending therapy. When I met my husband in the year 2000, I stopped taking medication. My husband brought joy to my life. During our relationship, my depression faded into a distant memory. When ICE took my husband and detained him on September 28, 2009, I was lost. Collapsed on the floor, thoughts of suicide began to fill my head. I need my husband back." I was sobbing. "My son and I have been in therapy since October of 2009. Logan has made some improvements but therapy will not bring his father back." I sobbed harder. "My husband is a wonderful husband and an amazing father. Logan asks for his father everyday. If you deport him, an entire community will miss him. Over the 11 years we have spent together, my husband and I have changed each other's lives for the better. He is my soulmate. Please let our family be together." After 20 minutes of pouring out my heart, the whole court room was in tears.

The judge then stated that he would take a recess to review all the documents and make his decision. During this hour, I thought it would be eternal but it was a chance for Logan, Pedro, and I to visit together without glass although touch was still prohibited. We talked about random, normal things. My mother said it was amazing to see us interact. She said our family seemed so close despite the trauma we had experienced. When the judge entered, it startled me. I had been engrossed in conversation with my husband and our son. The judge stated his verdict right away. "Mr. Guzman, I am going to grant your application for NACARA." My mom and I sobbed. "Thank you!" we both said through tears of joy. Then the government attorney stated that she would reserve her right for appeal. "NO!" My mom and I cried out. We knew this meant that it would be some time before Pedro would be released. Attorney Fogle stated afterwards that if the government attorney continued to reserve her right to appeal, we would file for bond in the morning. Then we would have a bond hearing.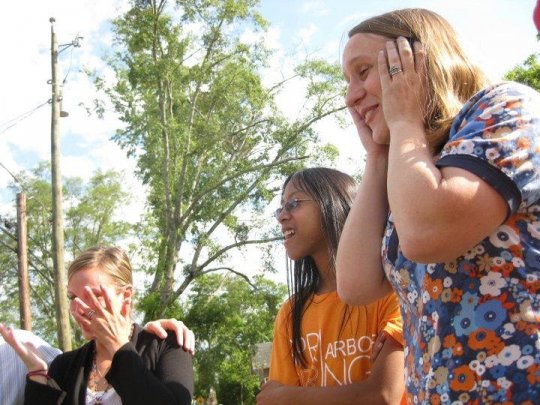 Afterwards, I was stunned. I could not believe that Pedro had been granted relief. About an hour later Pedro called to process what had just happened. "I am not leaving Georgia without you!" I was determined to stay until I could take him away from that horrible detention center. Pedro was so rational. He said calmly, "Go home. I will be getting out soon. It's okay. We won!" Tears were rolling down my face. I realized he was right. I shouldn't waste vacation time waiting for him to get out. That time would be like gold when he would be released. Our plan was to stay with Anton that night in La Grange and stop by Marilyn's in Atlanta the next day and if we had not heard from Attorney Fogle by noon, we would begrudgingly head for North Carolina without Pedro

Monday evening, we rejoiced with the Mission Year crew of Alterna. It was true! We had finally received justice! But, there was a very scarred part of me that felt like something would go wrong. Negative things had happened over and over. I would continue to hold my breath until he stepped foot out from behind those prison bars. In the morning, we packed up the car and headed for Atlanta. My mom, Milo and I were chatting and driving and I got a phone call at 11:30am. I looked at the number and didn't recognize it. Should I answer it? I thought. I should. "Hello?" It was Pedro! "Emily. CCA says they are releasing me." I shrieked with shock. "Milo! Pull over now! They are releasing Pedro!!!" Milo responded rationally. "I will safely drive to the next exit." I told Pedro I would call Anton and see if anyone was closer. We were 90 minutes away and I did not want Pedro to be detained for one second longer. Anton arranged for Pastor Lewis from Americus to pick Pedro up and meet us at El Refugio.

My mom and I were calling everyone and bawling. We were bursting with joy! I turned to Logan and explained, "Daddy is getting out right now! We are going back to get him!" Logan asked, "Does that mean all the other mommies and daddies getting out too?" "Not today sweetie. But we will keep fighting for them to be released." Tears were rolling down my face. Logan is amazing.

We drove back as quickly but safely as possible. I thought we would never get there. I was stunned. It was really happening. As we pulled up to El Refugio, Milo had to hold me back from jumping out of the car before it stopped. When I saw Pedro, I immediately started crying and leaped into his arms. Logan was right behind me. Our family was hugging for the first time in 19 months. Words cannot express how we felt at that moment. Logan kept repeating, "I feel like I'm in a dream."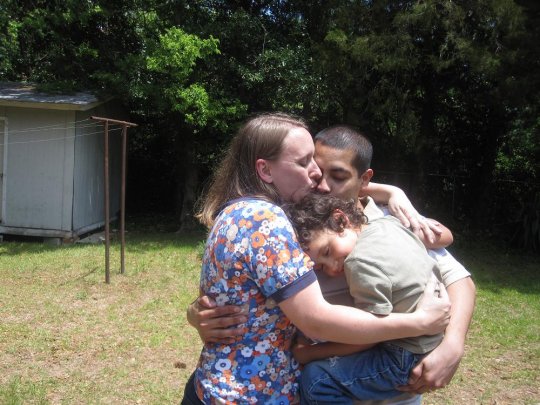 We decided to get out of town as quickly as possible. As we were about to leave, Logan said, "Let's pray. Daddy, you pray. You haven't prayed with us in a long time!" My tears would not stop streaming. We got down on our knees, held hands and Pedro prayed. "Thank you God for my release. I am sorry that I doubted you during this time. Thank you so much for giving me my family back and for all those that supported us. Thank you for my freedom. Amen."

We stopped in LaGrange to thank Anton and the Mission Year Crew for all of their support. As we pulled up to the Alterna community house, they were waiting by the curb, waving and crying with joy and excitement. We leaped out of the car and into their arms. They showed Pedro the garden that he had only seen in pictures. As he enjoyed the smells and colors of the garden, I marveled in the fact that at any second, I could walk over and touch my husband. I watched him with Logan, hugging him, playing, crying. It was a miracle we all shared. We shared refreshments, took lots of photographs and bid our farewells and headed towards Atlanta.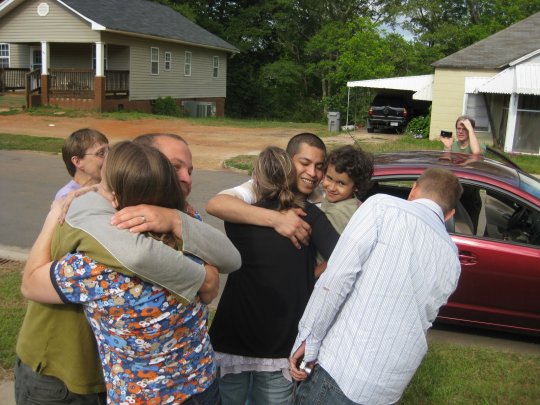 The next stop was Marilyn's where we had ice cream while Logan played with Javi and Teo, her twins. My mother cried as she heard Logan say to Javi and Teo for the first time, "This is my Daddy." We hugged the McGinnis family goodbye and drove until we couldn't drive anymore. As we were driving, Pedro said, "This is the first time I have seen night in a long time. It is beautiful." That night we stopped at a hotel. While we were sleeping, all three of us awoke several times in the night with anxiety. "We're still separated. No, we're not. There he is, next to me." It was like seeing him again for the first time. The next morning we woke up, ate breakfast together and headed towards North Carolina.......home. As we drove, Pedro marveled in the gorgeous emerald green landscape and I marveled at having his face so close to mine.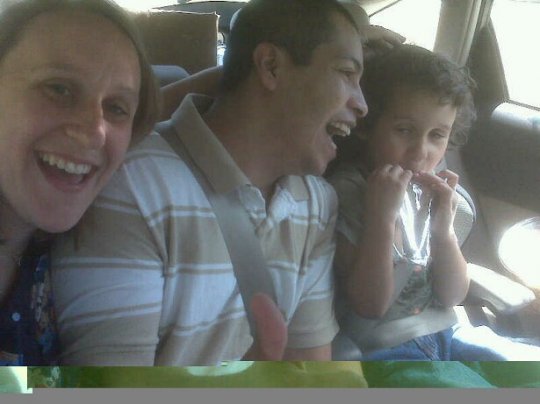 We finally arrived home. It did all feel like a dream. I was scared I would wake up from this dream and he would not be there. I felt nervous when he was out of my sight but then I would hear Logan and Pedro in the next room, laughing and playing and shrieking and it was pure music. My husband is home. On Saturday, we did normal things, things I could only dream of for the last 19 months. We went to yard sales, fixed up the car, played at the playground. I watched my husband and my son play together, running, jumping, climbing. Pure joy. Pure, pure joy.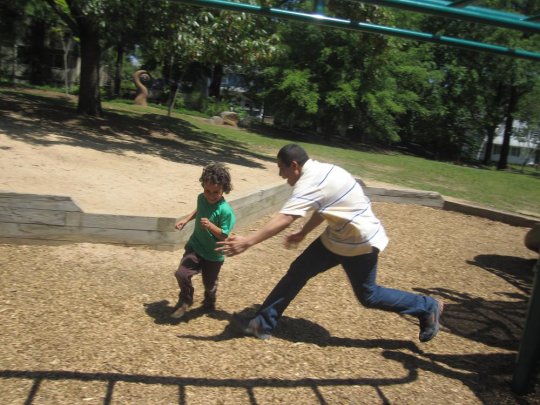 We are together at last. I can breathe again. In our joy, there is an undercurrent of sadness. There are so many people still suffering at the hands of this broken immigration system. This was a victory for us but we will not stop fighting! There are other families unjustly separated. The struggle is not over until all the children can look up into their father's eyes and say, "We won!"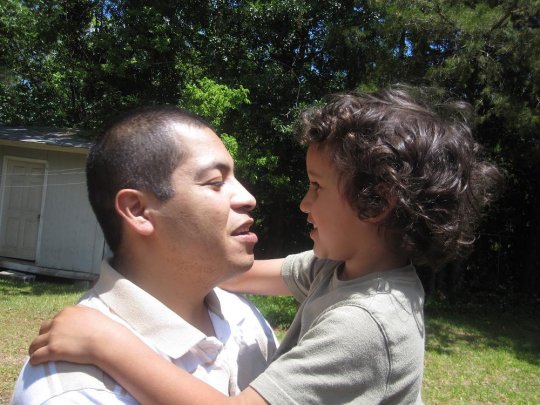 **************
Thank you to all of those who helped last week go smoother than I ever could have dreamed!
Anton and Charlotte Flores
The Mission Year Crew
Bryan and Christin Babcock
Pete and Cherilyn Larsen
Marilyn McGinnis
Sarah Sexton
Pastor Lewis
Pamela Alberda and Milo Fryling
**************