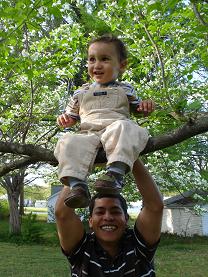 Pedro was only 8 years old when he entered the United States. This is his story told by his wife, Emily Guzman.
How it all began…
Approximately 3 years ago, Pedro's mother went in to the immigration office for her permanent residency interview. Our biggest mistake, in hindsight, was not sending a lawyer with her. She is older and her memory is not great. In the interview, she made a mistake and was denied permanent residency. Pedro was then sent a Notice to Appear in Court by immigration authorities. The problem occurred when they sent the Notice to Appear to the wrong address even though they had the correct address. They had sent him his work visa and other paperwork to his correct address earlier that same year. When he did not appear to the court date, because he did not receive the order to appear in court, he was issued an order of deportation. The order of deportation was also sent to the wrong address. We found out when he was denied his work visa.
Our thoughts upon discovering Pedro had an order of deportation:
After we found out he was issued an order of deportation, we consulted a lawyer. Unfortunately, we did not have the money at the time to hire him. I was also under the naive assumption that because I am a United States citizen and we have an American born son, that Pedro would be protected.
Everything happened so fast, Pedro was gone in just a moment…
On Friday September 25, 2009, at 4am in the morning, there was a loud banging on the door and someone shouting, "Police! Open up!" I knew it was immigration. I also knew it was better not to open the door. They banged and yelled and shined flashlights into our windows. We were terrified! After about 30 minutes of banging and fear, they left. Logan, our 3 year old son, was terrified and traumatized. So were we. We called the lawyer that day and the lawyer did not call us back. We spent the weekend on edge. On Monday September 28, 2009 at 8am, Pedro, Logan and I walked out of the house. Pedro was carrying bags to take to Goodwill and load up into the car. Logan and I were going to have breakfast.
Suddenly, an SUV drove up and two men jumped out and grabbed Pedro. They handcuffed him and told us that they were from ICE and they would be detaining him because of an order of deportation. I told them that my son was only 3 years old and did not understand what was going on. I asked them if he could say goodbye to his father. To my surprise, after several requests, they agreed to let them say goodbye. Pedro was still handcuffed so they could not hug. Pedro was able to give Logan one kiss and say goodbye.
Pedro's detention history:
Pedro was first detained in Wake County jail. After one day, he was transferred to Alamance County jail, a local jail, in North Carolina run by the Sheriff that ICE rents bed space from. We hired the lawyer with the help of my mother and grandmother that week. He was in Alamance for about a month.
During this stay, we made one attempt at visiting Pedro with Logan. It was a disaster. Alamance County Jail has visitation through video camera. Logan did not understand why his dad was on TV and had a complete meltdown. I visited him alone 3 more times.
At the beginning of October, Pedro was transferred to North Georgia Detention Center in Gainesville Georgia. I drove 5 hours there for a 1 hour visit through glass and then I drove five hours back, all in one day.
Six weeks later immigration authorities admitted their mistake (sending vital information to the wrong address) and agreed to reopen the case and stay his deportation temporarily until a final decision about the case. We were optimistic.
On November 12, 2009, Pedro was transferred to Stewart Detention Center in Lumpkin, Georgia (9 hours from where we live.) During the month of December, there were three different court dates that were scheduled and cancelled by the judge. He eventually had a bond hearing on December 9th and a Master Calendar hearing on December 21st. That month the judge asked for tax documents and I immediately got tax documents for 2000-2008. The lawyer submitted them. Judge Cassidy had stated that filing taxes proves good moral character. The weekend of the 11th, Logan and I went to visit Pedro driving 20 hours in one weekend. The visit went well but it was also heartbreaking to see Pedro and Logan playing "hide and seek" through glass.
On December 15, 2009, the judge stated that he did not believe that Pedro was eligible for relief under Nicaraguan Adjustment and Central Relief Act (NACARA), did not want to entertain Pedro's case for immigration relief, and denied him bond. There was another master calendar hearing set for January 4, 2010. Pedro decided to write a letter and read it to the judge. Judge Cassidy refused to hear the letter read.
On January 4, 2010, there was miscommunication between the lawyer and the judge and they continued the Master Calendar hearing to January 25, 2010. We began to consult second opinions. On January 8, 2010, we decided to hire a new lawyer because he had experience with Judge Cassidy. On January 15, 2010, the appeal for the bond decision was filed. On January 25, 2010, Judge Cassidy still stated that Pedro was not eligible for NACARA relief.
On February 16th, Pedro was finally granted a court date to present his case, which was scheduled for March 18, 2010. We began to prepare witnesses and make travel plans in order to prove extreme hardship if he was deported and also that he has good moral character.
On March 18, 2010, two of my friends drove 10 hours and my mother, Logan, my sister-in-law, and I drove 9 hours to attend the court date. Shortly after we arrived, we spoke with the attorney who stated that the Judge still did not believe that Pedro was eligible for NACARA. As we waited to hear the judge explain to us why he was not going to give Pedro a court date, the attorney showed me the statute in the immigration law that clearly stated that Pedro was eligible. When we entered the courtroom and sat down, Pedro also entered the courtroom. At that moment I quickly touched his hand. It has been the only time in 8 months we have been able to touch each other and it lasted about 5 seconds. The judge then proceeded to tell us that he still did not believe that Pedro was eligible for NACARA and that his final decision was to deport Pedro. He also said that we could appeal his decision.
After the terrible mishap of a "court date" we problem solved with the attorney. Under NACARA, an applicant is disqualified if they have an "aggravated felony" conviction, which Pedro does not have. Pedro had two misdemeanor marijuana charges (possession of less than a packet of sugar in size) in winter 1998 when he was a teenager. Under the immigration law, "aggravated felonies" do not, in fact, have to be felonies. One of Judge Cassidy's justifications for deciding ineligibility was that these two nonviolent misdemeanors constituted an aggravated felony, thus warranting Pedro's mandatory detention without the possibility of bond and taking away his ability to stay in the United States. Our lawyer stated that it could help if we had the two misdemeanor marijuana convictions vacated. We contacted a lawyer in California.
At the beginning of April we received notice that the bond appeal (that we filed in January) was granted!! We were so excited!! Surely it meant he could get out! Our hearts fell when we found out that the immigration Board of Appeals still had to make a recommendation, which would then be sent to Judge Cassidy, who still makes the final decision. On April 7, 2010, Judge Cassidy ignored the Board of Appeals' recommendation and denied Pedro bond. In the document denying Pedro's bond, Judge Cassidy made statements that were completely untrue about Pedroas if he never read his file.
On May 6, 2010, one of the convictions was vacated because the lawyer argued effectively that Pedro was not properly informed that the conviction could affect his immigration status.
On May 9, 2010, the appeal for the final decision on Pedro's eligibility to stay in the U.S. was filed to the Board of Immigration Appeals. Additionally, on May 18, 2010, a motion to reopen the case was filed, due to new information (new information being the vacated conviction).
Where is the case now?
November 28, 2010 we received notice that the Board of Immigration Appeals overturned the Judge's decision to deport Pedro. We had a bond hearing a week later. In the bond hearing the Judge agreed to a $5,000 bond but the government attorney did not agree. We found out on December 6, 2010 that Pedro's bond was denied again. Now Pedro has a Master Calendar hearing December 30, 2010. The master calendar hearing was cancelled. It was rescheduled for January 13, 2011. On that day, Judge Cassidy informed Pedro that he would have an individual hearing but that it would not be with him. The Master Calendar hearing on February 11, 2011 was rescheduled. The bond hearing was on February 28, 2011 with a new judge, Judge Trimble. Due to miscommunication between the lawyer and judge on February 28, the next bond hearing was scheduled for March 10, 2011 at 8am. The Master Calendar hearing on March 4th happened and Pedro's individual hearing was scheduled for May 16, 2011. The individual hearing happened and Pedro was granted. He was granted cancellation of removal based on extreme hardship his deportation would have caused his family. He was released on May 17, 2011!!!
We had an Infopass appointment for Pedro for Wednesday May 25, 2011. At the appointment, Pedro received his temporary green card, good for one year. He then received his permenent residency. He kept that status for approximately 7 years.
On August 15, 2018, Pedro received his U.S. Citizenship! And a few months later he received his United States Passport! Pedro and his family feel so blessed and realize his is a rare one. Emily and Pedro will continue to fight for those families that have been separated by unjust immigration policies. Please help them continue this fight!