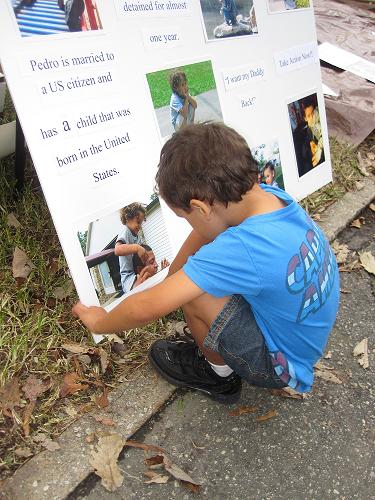 Pedro Perez Guzman is my best friend , my husband and my soul mate. Over the more than 10 year we have been together, he has been a wonderful man, husband and, since our son Logan was born, an amazing father. Pedro is the type of man that sees abandoned dogs on the side of the road and rescues them. He sees someone that needs assistance and helps them without question. He is a man that has worked hard to change his life for the better and accomplished those changes by being a hard worker, a thoughtful, committed, loving husband and a playful, caring, and present father. Every time I close my eyes, I think of the times when he would come home after a 12 hour shift of work, exhausted. I would tell him, Logan and I were going for a walk to the park so he could have a few minutes of peace. We would start walking and a few minutes later he would come running up behind us with the dogs. "I missed you guys!" He would say and give us a big hug.
You would think that being detained, he would just be sitting in the cell, depressed and trying to pass the time. In the time he has been detained by immigration, he has astonished me. At Stewart Detention Center in Lumpkin, Georgia the detainees call him El Abogado , the Lawyer and the guards call him the Congressman. The reason for these nicknames is that he is the mediator, the translator, the negotiator, the peacemaker, and the calm in the middle of the storm. Pedro has mediated discussions with the guards an enormous amount of times so that the detainees won't lose it and get into trouble. He communicates messages through me to calm the worries of the distraught and separated families. Together we work to show them how to manage the very complex phone and money system in the detention center. He translates for the detainees daily so that they can communicate their needs. He even tries to cheer up the guards when he notices they are down. But most of all, he speaks up when he sees something is not right. Pedro is an honorable, kind, and strong leader. He does not deserve to be behind bars.
Today, it has been one year since immigration came to our house and ripped my husband and Logan's father, Pedro, out of our lives. It has been a heart wrenching year and Pedro and I have done the best that we can to keep fighting the injustice. As the leaves change colors and start to fall to the ground, I realize Logan's 4thbirthday is just around corner, I am stunned Pedro is still detained. If he continues to be detained on October 24th, he will have missed the whole entire 3rdyear of Logan's life. Every day, I think, "It's not possible. Another day is going by without any word on our appeal for justice." I never knew that the immigration system in the United States was so outrageously flawed until I began to experience it through my husband. Pedro is one of the very few fighting his case in immigration detention. It is a daily emotional fight for him to continue without his freedom. He is incarcerated with more than 60 other detainees, no edible food, no privacy, no contact visits with us, being treated like an animal, and 9 hours away from our home. Most days he feels he can no longer fight. He qualifies to be here legally but the broken immigration system continues to detain him. Tax payers are paying approximately $100 per day to keep Pedro away from us. Today, they have spent approximately $36,500 to keep a devoted father and loving husband brutally detained. My son asks for his father daily. "Mommy, why is Daddy still in there?" How can Logan understand when I don't even understand? Against the recommendation of the Board of Immigration Appeals, the judge denied Pedro bond and ordered him deported in May. We promptly appealed the judge's decision to deport him. Four months have passed and we still have not received a reply from the Board of Immigration Appeals concerning the judge's decision to deport him. Days continue to pass, Logan grows bigger and Pedro continues to miss the beautiful moments of our son's life. There are many fathers that walk away from their child. Pedro was ripped away against his will. Please help to reunite our family! Please fight the injustice!! Bring Pedro Home!!!!!
Go to the Take Action Section!! Write letters, make phone calls, send postcards, sign the petition on Change.org!! Help us bring Logan's daddy back!!!!