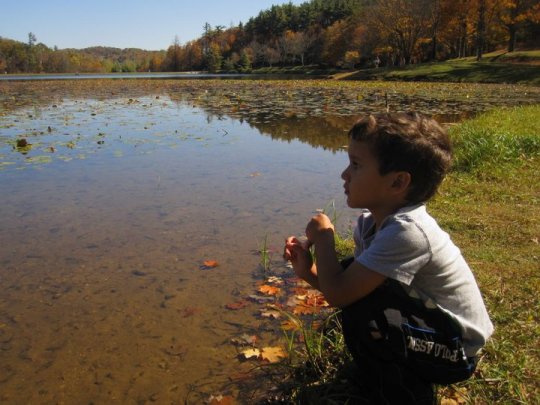 A few days before the rally, we were planning and organizing and someone mentioned civil disobedience. When it was first stated as a possibility, I couldn't picture what it would be like. I have never been involved in anything like it. I have never intentionally broken a law to call attention to an issue.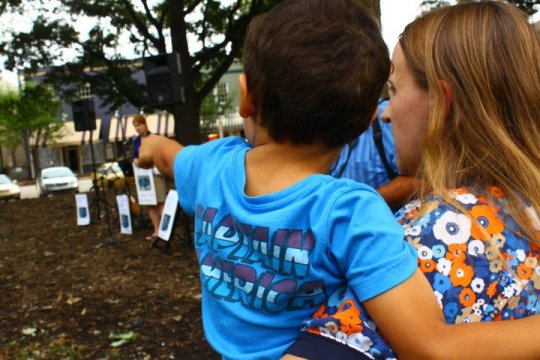 At this point, we had tried a petition (we had more than 1,000 signatures), postcards and letters to the Secretary of Homeland Security (more than 1,000), a website (more than 6,000 hits), newspaper articles (more than 15 had been published), contacting representatives and Senators (one has been contacting the BIA), and organizing a local Rally in Raleigh. The more I thought about it, the more I realized that if I took an action like civil disobedience, there would be more national media attention about Pedro's case and all the immigration cases that are happening throughout the nation. It would start people talking about why the mother of a 4 year old would intentionally be arrested? People would begin to understand the gravity of the situation. I posted on Facebook, "What would you do for the freedom of your husband?" The responses motivated me even more. I would do anything for the freedom of my husband. But then I began to talk to a good friend that specializes in trauma.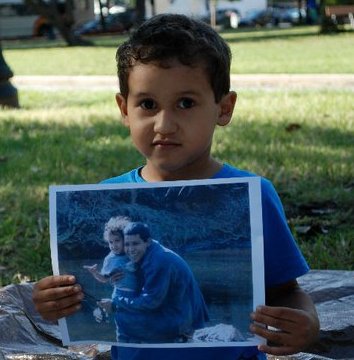 Logan witnessed his father, a stay-at-home dad, ripped away from us in handcuffs last year. Logan's experience is that handcuffs=you don't come back. At first, when Pedro was taken, when Logan and I were together, he did not want me to leave the room. If it began to get dark when he was with his care provider, he began to get anxious and upset. He explained to me that when that happened, he thought I would never be coming back. So, that is when I decided to invite my mom to the rally, so that she could take him somewhere else while I was arrested. My mother agreed immediately.
Then I realized this action could mean jail through the weekend. Logan has never spent a night without me since he was born. But, what if this attention freed Pedro? One weekend without me wouldn't traumatize him too much more…..or would it. My friend, the trauma specialist, answered yes. The weekend would be eternity for Logan.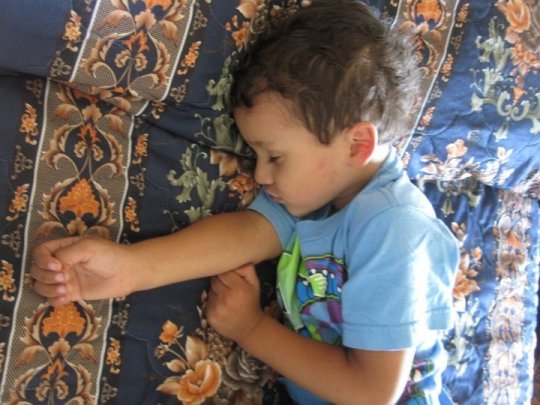 That night, I received a phone call. I hadn't seen Logan much that day because it was my late night at work. I tried to get off the phone quickly. When I returned to the bedroom, Logan was asleep. I sat on the side of the bed and gazed at him dreaming peacefully. I could not let this whole situation hurt him anymore. We had worked so hard for him to feel just a little more stable. If I participated in civil disobedience and was arrested and taken from him for an entire weekend, he would be re-traumatized no matter how careful we would be.
I was still conflicted but my mom, Logan and I left for Georgia early on Thursday the 18th. It was a 9.5 hour drive. It went relatively well and we were able to arrive in time to have a visit with Pedro. I could tell he was worried about the whole situation but we had a good visit. We talked, laughed and visited. That night, we met with a group of walkers that had committed to walking 100 miles to protest the School of Americas. They had already walked about 95 miles. In Columbus, during the weekend, there would be a large annual conference and rally asking that the government shut down the School of Americas and their walk would end there. I talked to them about the situation with Pedro. They were all shocked by the injustice and very supportive of the rally. They all committed to attending the rally. I felt totally and completely supported.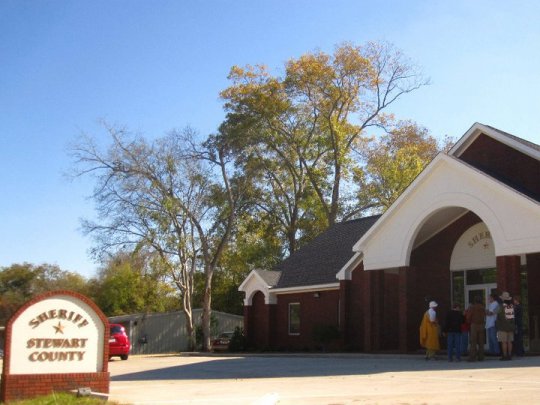 In the morning, the organizer of the rally, Anton Flores, and I went to meet with the Sheriff of the county. We wanted to be respectful and talk to him about the civil disobedience we were considering. When I shared Pedro's story with him, he was shocked Pedro had been detained for 14 months. He said that the facility was built to keep people for 60-90 days. We explained that we would simply be crossing the property line of the detention center. There would be absolutely no resistance of arrest, no property damage, and no disrespect. It would be a peaceful showing of solidarity and protest against injustice. We then had an impromptu meeting with the judge of the county. He was also shocked at Pedro's case. Both the Sheriff and Judge were compassionate and felt sorry for the situation. I felt good that we were straight forward with them.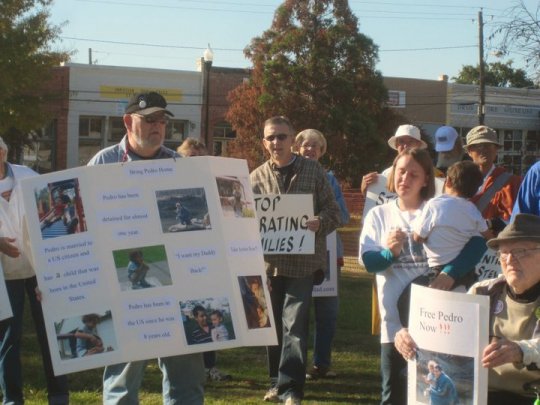 We arrived at the town square in Lumpkin and people were already starting to arrive. Approximately 100 people gathered. As people spoke of the injustices of the current immigration system and then songs were sung of a world with no borders and human beings being treated with respect, I was crying. So many people were there that also believed that something is wrong with the current way people are treated. I looked around at the friendly and concerned faces.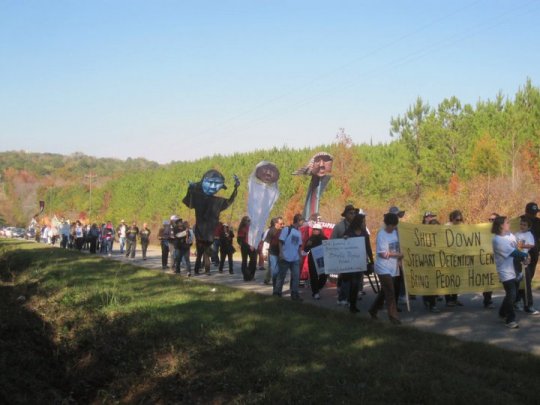 We then began the processional 1.5 mile walk to Stewart Detention Center. Giant puppetistas, signs with Pedro and Logan's picture, people with t-shirts saying "Bring Pedro Home", peace flags, and kind hearted men, women and children filled the street. We started walking, chanting the names of those who have died in immigration detention centers throughout the US. After the more than 100 people's names were called and the crowd replied "Presente," Logan was offered a place on Anton's shoulders and a megaphone. Logan began to chant "Bring Daddy Home" "Bring Daddy Home". As the crowd heard our 4 year old little boy making this heartfelt plea, they repeated his words. I thought, "How empowering for Logan to hear the support of 100 people affirming the reunification of his family!" He and the crowd chanted until he was satisfied.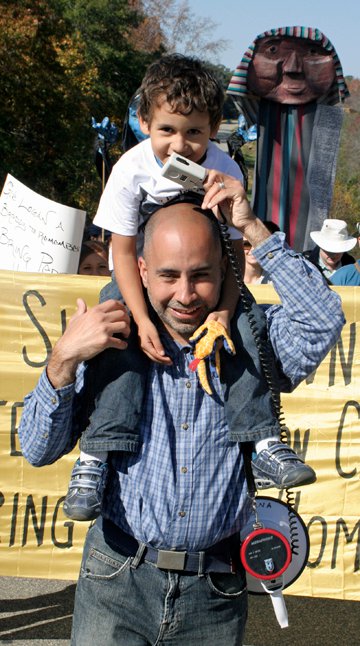 My mother suddenly appeared beside me. I had been wondering where she had disappeared to. She looked at me and said, "Emily, what if I do it? What if I cross the line?" As tears rolled down my face, I replied, "Really Mom? You would do that?" My whole life I knew that my mom loved me. I could not have made it through this year without her but I never thought she would be willing to take such a strong stand. My mother is not a rule breaker. She is a kind, honest, loving, compassionate woman but most of all she is a law abiding citizen. I knew then that she was serious and she wanted to do everything in her power to see our family reunited. As I continued to cry, I hugged her. "I love you, Mom." We continued the march, our arms around each other. We rounded the corner and Stewart Detention Center came into view. Many police officers, CCA guards, and other men in suits were on the other side of a barrier. I could feel the tension rising.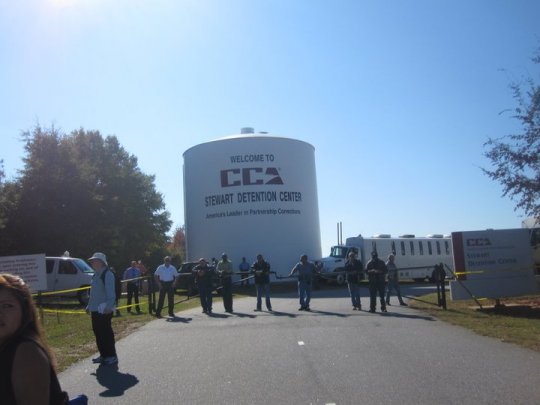 We approached the sound system in a grassy area to the side of the blocked entrance. Words of solidarity and facts about the immigration system were spoken. Music was played. Then, I spoke. I spoke of the pain this situation has caused my family. I spoke of the Stewart Detention Center and the injustices that are happening in the immigration system right now. I spoke of the Corrections Corporation of America taking advantage of local, rural African-American community members as underpaid employees and immigrants that are brought to the detention center by force. As I spoke, I cried. As I looked up at the crowd, I saw that others were also shedding tears. They understood. They heard me. They felt my pain. I felt strength and energy from their empathy.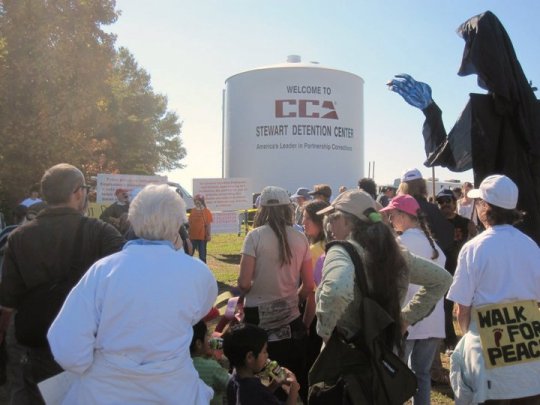 Anton then asked that those who chose to participate in this act of civil disobedience come forward. Christin and Bryan Babcock, Anna Fisher, Mary Beth Gamba, Ellen McGill, and Jules Orkin joined Anton. My mom came over to me and hugged Logan and I and told us that she loved us. She approached the circle of the seven others that had chosen to stand up for our family and all the other immigrants that have been unjustly treated. I caught eyes with Christin who I had just met the night before. I began to cry. I looked at her and thought "There are people that would sacrifice their freedom for the freedom of others. There are people that are fighting for justice. I am not alone." She saw my tears and began to cry too. The circle of eight people prayed together. As they walked towards the line that was guarded by police officers, I approached the microphone and said "My mother and seven courageous people are crossing a line. They are crossing a line for justice and for peace." As they walked towards the police officers, the musicians began to play and everyone began to sing, "We Shall Overcome."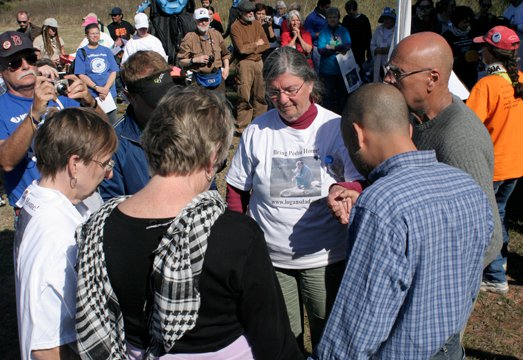 As my 54 year old mother broke the law intentionally for the first time in her life, along with seven brave people, she was handcuffed. My mother is so brave. She would not have done this if she had not witnessed the injustice and suffering we have experienced this past year. She had promised Logan that she would do everything in her power to bring his daddy home and she has. The eight who crossed the line were escorted, in handcuffs, to the back seat of two squad cars. Because of the large crowd around them as it was happening, I did not see my mother until they were driving her away. When our eyes met and she waved to me, I began to sob. My mother loves us and would truly do anything for our family to be reunited.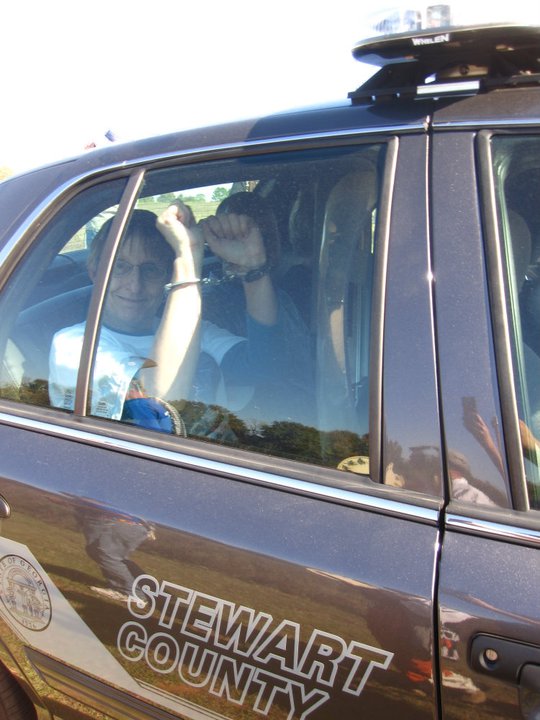 We received a phone call a short while later that everyone would be released within the next few hours each with a $250 bond. I was so relieved. Almost half of the money was donated by the large group that was waiting outside the Sheriff's office. People just pitched in their own money for the 8. Amazing.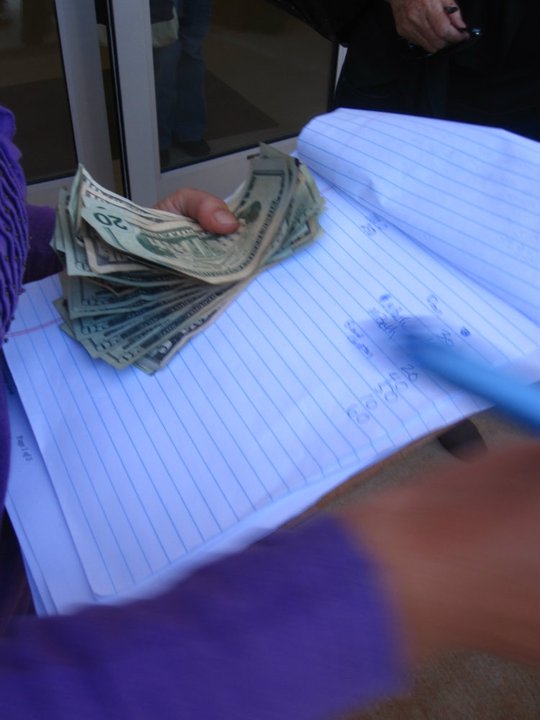 One by one, they were let go. I hugged every one of them and thanked them. Seven of these people had never met us before. They did not know me or Pedro or Logan. When they heard our story, they chose to risk their own freedom to fight for justice. They stood up for what they believed in with courage, strength and peace. They restored my faith in humanity. I am forever grateful to the Lumpkin 8.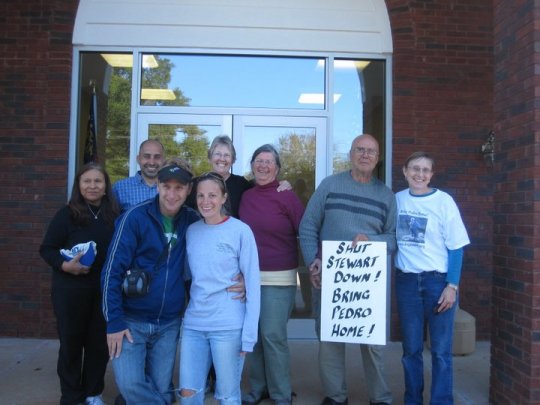 Pamela Alberda, Anton Flores, Christin and Bryan Babcock, Anna Fisher, Mary Beth Gamba, Ellen McGill, and Jules Orkin are the Lumpkin 8.
************
Photos in "Breaking the Law" taken by the following people:
Jim Torren, Alterna, Justin Valas, Pamela Alberda and Emily Guzman